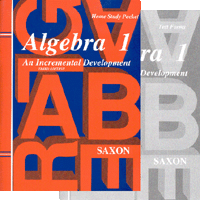 Well, I have gone back to Saxon math for algebra. For one thing, I have the book and answer book and tests. My last two kids used it and we they kept it pretty clean of markings, except for a sticker on the front cover of one of those characters from Dragon Ball Z.
We have used Math U See for the last two years and had good success with that. But I did not like the algebra course and found it distracting with all the manipulatives. Horizon math was good in the elementary years, a workbook that was easy to write in and understand.
Saxon is good, as it builds on lessons, but it also reviews daily too. The algebra course has geometry woven into the curriculum as well.
I have noticed that it takes my son a while to get the problems done, but he is getting better at putting in the effort and time--which is necessary at age 14.